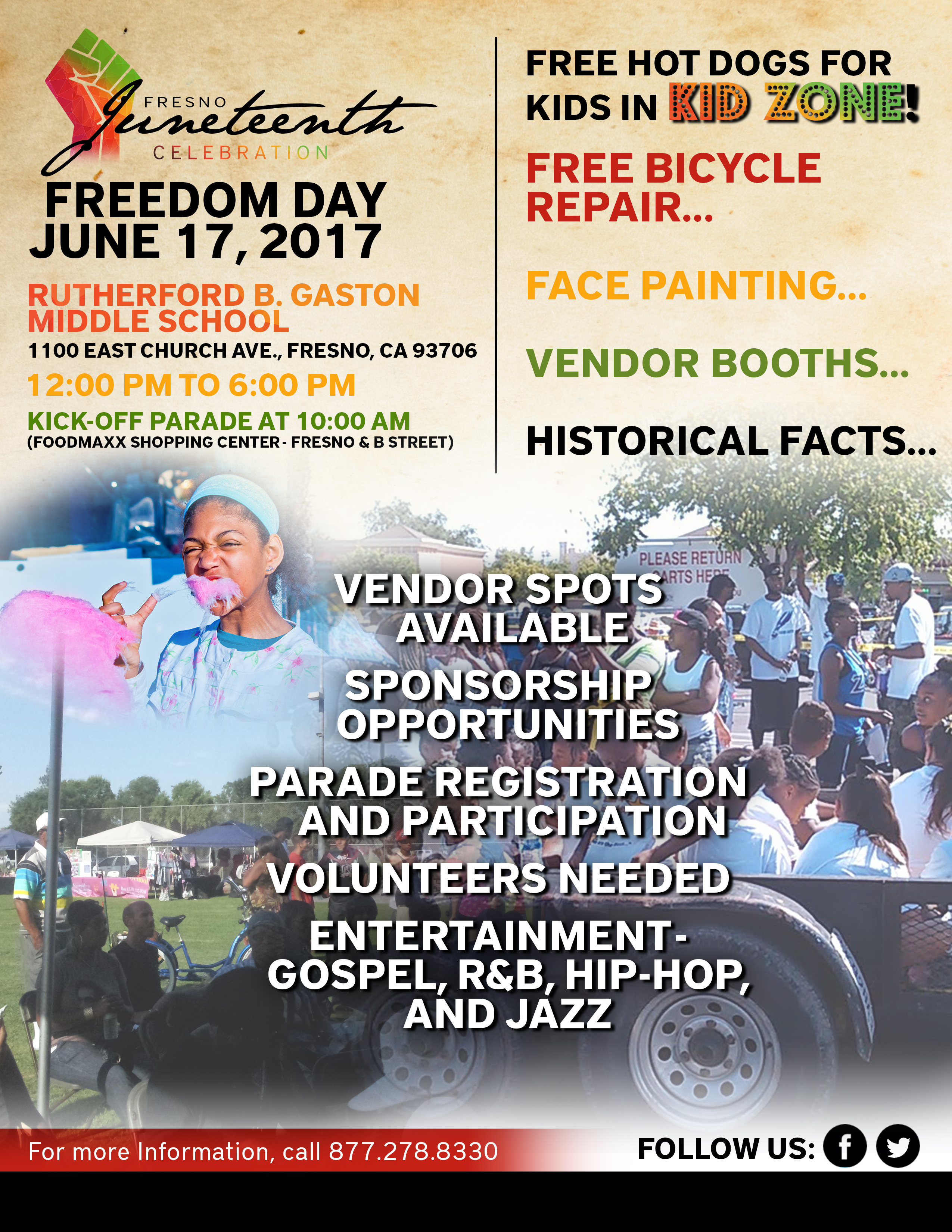 About Fresno Juneteenth
The Fresno Juneteenth Collaborative Committee is excited to announce its Annual 2017 Juneteenth Celebration! This year's theme is "FREEDOM DAY". This event will serve to recognize the importance of the African American Family with celebration of culture and heritage in the family unit. Dare to dream bigger than you can imagine, and then work to achieve it.
As you may know, Juneteenth is the African American's addendum to Independence Day. It is a nationally recognized and celebrated holiday which commemorates the notification of the Emancipation Proclamation to Galveston, Texas on June 19, 1865 in which the Fresno community has been celebrating this historical moment for over 30 years.
On Saturday, June 17, 2017, the Fresno Juneteenth Collaborative Committee will host the Annual Juneteenth Celebration at Rutherford B. Gaston Middle School located at 1100 East Church Avenue, Fresno, CA 93706, from 12:00 p.m. to 6:00 p.m. Juneteenth will be a celebration of African-American culture, heritage and pride. This year's one day observance is expected to attract over 10,000 community members, adults, and children who will enjoy the weekend festivities which include a parade, local performances, inspirational speakers, workshops. In addition, there will be a variety of food that represents the African American culture, games and entertainment to satisfy all age groups.
On Saturday, June 24, 2017, we have teamed up with the Fresno Grizzlies to host the 5th Annual Juneteenth Negro League Commemorative Game in honor of the Fresno Tigers. The Fresno Tigers were founded in Fresno and played during the 1942 season before moving to San Diego, CA. The Grizzlies will take the field against the Sacramento River Cats. The game will commence at 7:05 p.m. and gates open at 6:05 p.m.
Thank you in advance for your support and partnership.